This beloved traditional French folksong gives children a perfect opportunity to dress up and take part in the action, whether as a cook, carpenter, singer, police officer, conductor, musician, gentleman, lady, or child. The diverse members of the community all dance together on the famous bridge of Avignon teaching the French words for different jobs. The song is from Whistlefritz's CD CHA, CHA, CHA — French Learning Songs.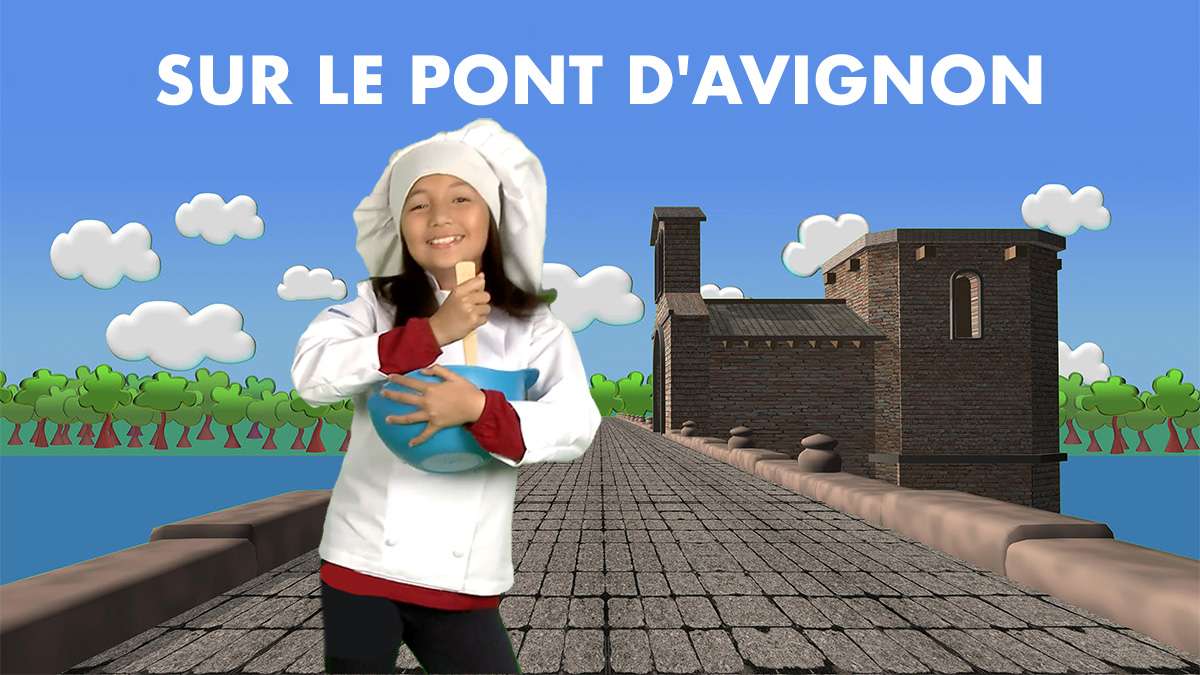 SUR LE PONT D'AVIGNON
(On The Bridge of Avignon)
Traditional music.
Arranged by Didier Prossaird.
©2011 Whistlefritz LLC.
All rights reserved.
Musique traditionnelle.
Arrangements de Didier Prossaird.
Tous droits réservés.
Sur le pont d'Avignon
On y danse, on y danse
Sur le pont d'Avignon
On y danse tous en rond
Les cuisiniers font comme ça
Et puis encore comme ça
Sur le pont d'Avignon
On y danse, on y danse
Sur le pont d'Avignon
On y danse tous en rond
Les petits clowns font comme ça
Et puis encore comme ça
Sur le pont d'Avignon
On y danse, on y danse
Sur le pont d'Avignon
On y danse tous en rond
Les charpentiers font comme ça
Et puis encore comme ça
Sur le pont d'Avignon
On y danse, on y danse
Sur le pont d'Avignon
On y danse tous en rond
Les chanteurs font comme ça
Et puis encore comme ça
Sur le pont d'Avignon
On y danse, on y danse
Sur le pont d'Avignon
On y danse tous en rond
Les policiers font comme ça
Et puis encore comme ça
Sur le pont d'Avignon
On y danse, on y danse
Sur le pont d'Avignon
On y danse tous en rond
Les chefs d'orchestre font comme ça
Et puis encore comme ça
Sur le pont d'Avignon
On y danse, on y danse
Sur le pont d'Avignon
On y danse tous en rond
Les musiciens font comme ça
Et puis encore comme ça
Sur le pont d'Avignon
On y danse, on y danse
Sur le pont d'Avignon
On y danse tous en rond
Les beaux messieurs font comme ça
Les demoiselles font comme ça
Et les enfants font comme ça
Sur le pont d'Avignon
On y danse, on y danse
Sur le pont d'Avignon
On y danse tous en rond
Sur le pont d'Avignon
On y danse, on y danse
Sur le pont d'Avignon
On y danse tous en rond
On the bridge of Avignon
We all dance, we all dance
On the bridge of Avignon
We all dance in a circle
The cooks go like this
and then again like this
On the bridge of Avignon
We all dance, we all dance
On the bridge of Avignon
We all dance in a circle
The little clowns go like this
and then again like this
On the bridge of Avignon
We all dance, we all dance
On the bridge of Avignon
We all dance in a circle
The carpenters go like this
and then again like this
On the bridge of Avignon
We all dance, we all dance
On the bridge of Avignon
We all dance in a circle
The singers go like this
and then again like this
On the bridge of Avignon
We all dance, we all dance
On the bridge of Avignon
We all dance in a circle
The police officers go like this
and then again like this
On the bridge of Avignon
We all dance, we all dance
On the bridge of Avignon
We all dance in a circle
The orchestra conductors go like this
and then again like this
On the bridge of Avignon
We all dance, we all dance
On the bridge of Avignon
We all dance in a circle
The musicians go like this
and then again like this
On the bridge of Avignon
We all dance, we all dance
On the bridge of Avignon
We all dance in a circle
The gentlemen go like this
The ladies go like this,
And the children go like this
On the bridge of Avignon
We all dance, we all dance
On the bridge of Avignon
We all dance in a circle
On the bridge of Avignon
We all dance, we all dance
On the bridge of Avignon
We all dance in a circle
Buy Album