About Us
Who We Are
Whistlefritz is an award-winning producer of language-learning programs for kids.  Whistlefritz music CDs, videos, and lesson plans have won over 100 awards and rave reviews from the most-respected organizations in children's media, including the Parents' Choice Foundation, The National Parenting Center, KIDS FIRST!, the Teachers' Choice Awards and Learning Magazine, the School Library Journal, the American Library Association's Booklist, and more.
Our Mission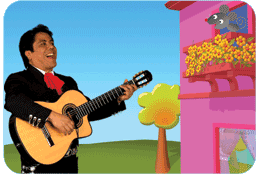 To support parents, grandparents, home educators, and teachers in teaching Spanish and French to children by creating high-quality French and Spanish language immersion programs that enable children to learn in a fun, educational environment.
Our History
Founded in 2006, Whistlefritz was borne out of a mom's passion to teach her own children Spanish. After reading research showing that early childhood was the best time to learn a language, Whistlefritz's founding mom set out on a mission to find fun and educational teaching materials for her children. She searched for videos with engaging storylines, featuring live speakers rather than cartoons, and teaching through immersion. Not finding what she wanted, she decided to create it: engaging, playful, live-action Spanish immersion programs for her own kids and kids everywhere!
Our Philosophy
Focus on Fun! Entertaining and Educational
Our philosophy of teaching Spanish and French is simple: children are naturally curious and love to have fun! Make a program that's playful and interactive, and kids can't help learning. Live action, animation, and lively music make Whistlefritz programs as entertaining as they are educational.
The Whistlefritz difference:

other programs are made up of a series of pictures of objects with narration. Example: an object is shown (i.e. cup, plate) and a narrator names the object "the cup, the plate." Not very engaging.

At Whistlefritz,we teach children Spanish and French in the same way they learned their first language: through words used in context by live speakers in fun skits, games, catchy music, and dance.
Real Kids and Adults
When learning a language, it's important for children to see how real people form sounds and words with their mouths. Cartoons are fun, but they can't show children how a language is spoken by a real person.
| | |
| --- | --- |
| | The Whistlefritz difference: it's less expensive to make programs in a lot of different languages if you don't film live speakers. That's why other programs often use the same film footage or animation narrated in different languages. At Whistlefritz, we use animation for fun, but we have our live speakers – adults and children – do the Spanish and French language teaching. It may cost more to produce videos with live speakers, but it's worth it. |
Again and Again …
Repetition is the key to learning Spanish, French, or any language! That's why our programs don't present a word just one time. We playfully repeat words over and over again throughout our Spanish and French videos in different contexts – in skits, games, animation, and songs.
Language Immersion
Our French and Spanish videos and music teach children languages through language immersion. Research indicates that language immersion is the most efficient and effective way for children to gain fluency in a language. Click here to learn why.