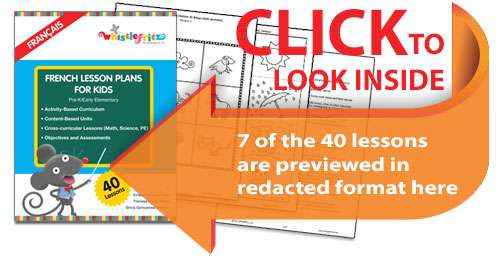 Includes:
French Lesson Plans for Kids book
Download Sample Lesson
Download color versions of relevant portions of Lessons 3, 5, and 6 of French Lesson Plans for Kids
4 Videos
3 Music CDs
Matching Cards game
Read about the programs in the collection →
Enrich your French instruction with the award-winning, multi-media Educator's Collection! The Educator's Collection provides a rich and diverse set of tools for Pre-K and early elementary French instruction. Developed by creative and experienced educators, French Lesson Plans for Kids is a scaffolded curriculum of 40 reproducible lessons that engage children in a diverse array of interactive, age-appropriate activities. French for Kids Videos teach vocabulary through an appealing blend of live action and animation ideal for visual learners. French for Kids Music CDs get children on their feet singing and dancing to an irresistible mix of upbeat songs and rhythms. The Matching Cards are a playful introduction to action words. Packed with fun, laughter, and music, the Educator's Collection is a treasure trove of teaching activities and materials for the French classroom!
Translation guides and lyrics can be downloaded here.
Ages:  Pre-K/Early Elementary
Questions?  Click here for more info.
---
Listen to Clips