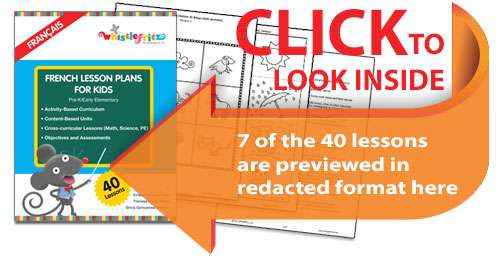 Developed by professional educators with over forty years' of combined teaching experience, French Lesson Plans for Kids is a curriculum of 40 lessons that engages children in fun, interactive, age-appropriate activities, such as creating puppets, following recipes, conducting experiments, and playing board games. In addition to French, the curriculum includes cross-curricular lessons in math, science, and physical education.
Beginning with Lesson 1 Who am I? (Qui suis-je ?), the lessons flow in a logical progression of thematic units (Colors, Numbers, Shapes, Places, Around the House, Clothing, Seasons, Parts of the Body, Positional Words, Food, Family, Animals, and Descriptive Words), culminating in a fête. Lessons identify clear goals and learning objectives as well as extension activities that are designed to enhance children's appreciation of French culture. The lessons emphasize the development of proficiency in speaking and listening, with play-based assessments included to allow educators to evaluate student progress.
French Lesson Plans for Kids is an adventure in learning for teachers and students!
Ages: PreK/Early Elementary
Length: 277 pages (print), 174 pages (digital)