"It's not often that we get reviews from testers that call a product "flawless" and "the gold standard" but this new release from multi-Seal-winning Whistlefritz garnered both reactions. We all know that kids love screen time, so getting them interested in watching a video is easy enough. But, getting them to watch half an hour in another language? That's another story. Les Saisons is hosted/taught by Marie, a warm, engaging and energetic host. Children were instantly drawn to her smiling enthusiasm. Together with her animated friend, a mouse named Fritzi, lesson time becomes fun time. There is live action mixed with colorful animation. Marie teaches about the four seasons directly into camera, then draws the viewer's attention to an illustrated window with animation about the seasons. The tone is playful with just the right amount of silly. There are a diverse group of children in the video, ranging in age and race, who also speak into the camera. They repeat the French words being taught and laugh at things that are funny. Laughing is a major component in immersion since it's a connecting experience. And the songs! There are extremely catchy, original tunes about the seasons that accompany videos of children playing in winter, spring, summer and fall."
The National Parenting Center, Spring Report 2017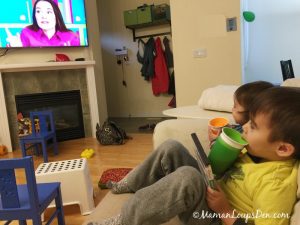 The last time Cub tried a Whistlefritz French language-learning DVD, he actually spoke more French than English. When we lived in Montreal, he was surrounded by French: from my husband, his relatives, his daycare and almost everyone around him. I was the only one speaking to him in English! Now that we live in Calgary, the situation has reversed. I was shocked by how quickly he stopped speaking French once English became the language of daily life. As for his little sister, she has only ever known life in English. It's really just her father who speaks to her en français. I am a fluent French speaker and before having kids and becoming a blogger, I taught French as a second language. My husband and I met in Spanish class in Montreal when I was on exchange in my third year of university. Language is extremely important to us! While I spent my entire post-secondary degree perfecting my French (and I continue to be bamboozled by the gender of words and by choosing the correct preposition), I want my children to enter university already bilingual. I dream of them correcting my prepositions or reminding me that bicycle and vélo are masculine even though bicyclette (the exact same object) is feminine.
Cub is now in his second year of preschool in French. This September, we increased his attendance to three times per week, which gives him about eight hours of French instruction. Papa Wolf has been making a concerted effort to speak only in French to Cub, even though Cub typically responds in English. I am very happy to report that the extra day of preschool and reinforcement at home has shown noticeable results! Cub now sings songs in French, spontaneously counts in French and responds in French when we ask him questions. He can also swear remarkably well in French, but that's another issue. I was asking him a yes or no question the other day about his cousins, and I was listing their names. I noticed that when I asked him about his cousins from Québec (and pronounced their names in French), he immediately switched to saying "oui" instead of "yes."
We've watched our new Les saisons DVD three times now, and it's really reinforcing the French Cub is learning at preschool. As for Little Miss Cub, it's a much-needed opportunity to expose her to the language until she too can begin preschool en français. Aside from delighting in pressing buttons on the remote, Little Miss pays very little attention to what's on television. I don't think she's learning much of anything when Cub watches Pat'Patrouille (that's Paw Patrol in French). The Whistlefritz DVD has simple, bright animation, plenty of children's faces and a host with an engaging and enthusiastic voice that speaks right to Little Miss. When Marie is waving "Bonjour," Little Miss waves back and grins!
Featuring vocabulary related to the four seasons (weather, season-appropriate activities and clothing), there is no English over the course of this 20-minute program. That's because Whistlefritz uses an immersion approach to language learning: "Children can achieve fluency more quickly and more permanently by learning words directly from images and context." Little Miss is captivated by the on-screen action, and although she isn't even speaking words in English yet, I know that exposing her to French is valuable.
There's plenty of repetition and clear, slow pronunciation. Gestures, images and footage of children at play help the viewer understand what is being said. Even if you don't speak a word of French, you'll be able to enjoy this DVD with your children! I notice that Cub answers and repeats in French as he follows along with the host, Marie, and Fritzi the mouse. I've also heard him singing some of the songs to himself.
The host and the children in this DVD speak a very "international" French. Cub's French is definitely Québécois (his preschool teachers are also from Québec), so we noticed a couple of words that are different than what we're used to, but that's not a big deal. (For example, bonnet for a winter hat instead of toque; a ciré for a rain coat instead of imperméable.) I can only hope that my kids share my fascination with language and the ways vocabulary changes depending on region!
As a French teacher and a parent with dreams of bilingual children, I consider Whistlefritz's Les saisons DVD to be an excellent tool for introducing young children to French. If your children are starting French immersion or have French-speaking family members, this is a great way to reinforce what they are already hearing. Even if your children have no previous experience with French, they'll definitely pick up some vocabulary and pronunciation after a couple of viewings.
Maman Loup's Den
Young children will love French for Kids: Les Saisons and parents will love that they thought to purchase it for them! French for Kids: Les Saisons by Whistlefritz is one of a series of total immersion French instruction videos for children, aged appropriately for viewers 1 to 7 years of age.
The 35-minute lesson is fast paced, kid-focused instruction, that doesn't feel like instruction at all. The teacher, Marie Laure, is engaging, welcoming and animated in her delivery. Marie uses animated backgrounds, props and body language to demonstrate the meanings of words.
French for Kids: Les Saisons has return animated characters Fritzi, the mouse and Rito the fox planning a birthday celebration for Fritzi. Catchy, yet parent-friendly songs are interspersed throughout the stories to further help explain the concepts and add visual and auditory interest. The curriculum is reinforced with print words of key concepts (French only), bright colors, animation and cute videos of kids from diverse races playing in the different seasons – summer in the pool, autumn at a pumpkin farm and trick or treating.
Total immersion instruction means that there is no other language presented other than the one you are wanting to teach. This approach leaves learners relying on their other senses, besides auditory, to determine the meaning of words. Total immersion typically incorporates different learning strategies including visual, auditory and kinesthetic through a variety of multimedia approaches. The lack of English on this DVD was more distracting to me as an adult, than my daughter, who readily embraced the French only instruction. Thankfully, a parent/teacher translation guide is included which lists the English translation of the songs as well as key concepts of the lessons.
The Whistlefritz educator's French collection is highlighted on homeschool.com's Top 100 Educational Websites of 2016 as the perfect companion for parents who are homeschooling their young children. I give this 5 out of 5 stars and recommend it for ages 2 to 5. French for Kids: Les Saisons is available now wherever DVDs are sold so, go check it out.
KIDS FIRST!
French for Kids: Les Saisons (The Seasons) is an educational DVD designed to help young children (ages 1-7) learn basic French. Fritzi and his friend Marie celebrate Fritzi's birthday in this sing-along, dance-along adventure. French for Kids is an interactive program designed with immersion in mind, using call-and-response and repetition to help build the viewer's French vocabulary, with a particular focus on words and phrases associated with the four seasons. Highly recommended for youth language-learning DVD collections! 35 min., French language, English and French subtitles.
Midwest Book Review

Children find the perpetually playful mix of live action and colorful animation in this educational video to be so thoroughly entertaining that the cliche, "They're not even aware they're learning" holds true. Behind this remarkable feat is the deep care and attention Whistlefritz puts into creating their language-learning products. The immersion method (everything is spoken in French) is a highly effective approach to teaching a second language, allowing kids to readily absorb meaning through context and repetition. This sing-along, dance-along funfest keeps viewers smiling and laughing the time away while onscreen players Fritzi, Marie, and a French-speaking entourage of children engage in a host of verbal exchanges and fun activities. The sheer pleasure of it keeps young viewers coming back, again and again, as they learn a variety of words and phrases associated with all four seasons. Available in digital file or as a beautifully packaged DVD.
Tillywig Toy & Media Awards

First and foremost, I am in love with Fritzi and Marie! They are wonderful characters to learn a foreign language with!
Second, I love the music throughout the dvd-it gets stuck in my head all day long!
The best part is I can expose my child to another language while he is going through a sensitive period for language. He truly adores listening to his mother speak to him in french! I hope that I will learn the songs fluidly quite soon! When I do it will be such a great asset!
The dvd offers such an enriching and fun experience. I personally believe learning through song and conversation is the best way to pick up a language.
If you want to watch my youtube video go here: https://www.youtube.com/watch?v=YCCvY6SluI4
If you want to order your own dvd go here (or there is more to explore): whistlefritz.com
I hope that Whistlefritz branches out and does other languages such as italian and sign language. I would simply love that!!
Au Revoir,
Nicole, zillyzopnicole.wordpress.com
This latest DVD has captured her imagination immediately. She is in Spanish immersion school, but I have wanted her to learn French as well, and this is a perfect way to go.Their products are geared for kids between 1 and 7. We are right in the middle of that, and she has enjoyed these videos and CDs all along.
The graphics are engaging. The music is catchy, and even though I do not speak French, I was able to understand the words well enough.
I like the way they sing, the graphics illustrate the concept, and they show the words that they are underlining in the song. They talk about pants- they show highlighted pants- they show the French word for pants.
Marie has a sweet voice and she is interesting to watch. She interacts with little Whistlefritz, who has been in all the videos. My daughter remembers them both, even though we haven't watched a video in a little while (so busy lately.. lol.)
This video tells us about The Seasons-Les Saisons.
We learn words for snow, snowballs, leaves, swimming and things we wear in each season. There are so many new words for us.
I found that their downloadable translation guide was a huge help. I could learn the words as my daughter did. She can't read yet but I can see the right way to say the words and the song lyrics. We can reinforce the DVD learning better when WE know what is being said.
If you are homeschooling, or just want to keep your kids from getting that brain drain over vacations and holidays, I could see these as very helpful tools. They offer lesson plans and so many tools to go with the DVD. They really think of everything.  Educationally speaking- the collection is award winning. You cannot beat that.
The bottom line for us though- The videos are entertaining, over and over to my daughter:)
I am excited to announce that they are offering a coupon between now and 11/20/2016. It is good for 20% off this new video AND their other awesome selections in French and Spanish.
Use code: SAISONS16
I really want to thank the Whistlefritz team for remembering us, and giving us a chance to check out this latest DVD The Seasons-Les Saisons. We love it!
My Itzy, myitzy.com
Save
Save
Save
Save
Save