Download the Free Home Educator's Guide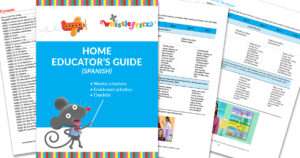 You can download the Home Educator's Guide (Spanish) by agreeing to the copyright consent below. By signing up, you'll also receive additional cultural and seasonal Enrichment Activities throughout the year. 
Please be sure to complete the three steps below by: 1) checking the copyright consent; 2) entering your email address as your "signature." 
Please send us any feedback you have on the Home Educator's Guide! We need your help to make them the best teaching tools possible.